Passe-partout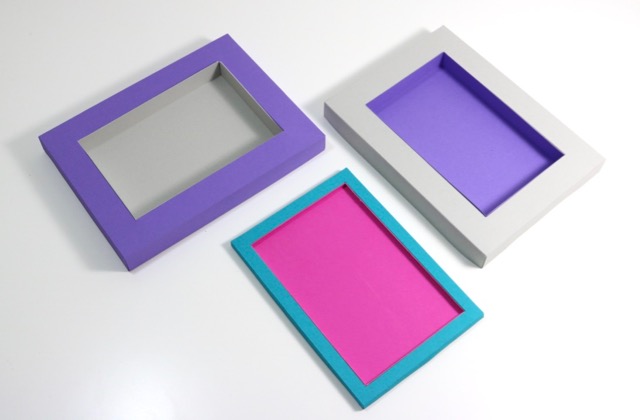 Een passe-partout of fotolijst met een diepe, brede rand. Dit model kan gebruikt worden als fotolijstje, als een "shadow box" of als inlegstuk in een andere doos, zoals de Ondiepe Doos of het Luciferdoosje. Door de brede rand en ogenschijnlijke naadloze afwerking kan je snel een chique fotolijstje maken, precies op maat.
Dit model bestaat uit twee delen: de lijst zelf en een extra stukje materiaal dat je erin kan laten vallen.
De belangrijkste maten zijn die voor de "uitsparing": Lengte Schilderij en Breedte Schilderij. De Lijstdiepte geeft aan hoe diep de uitsparing wordt en de Hoogte bepaalt de dikte van de lijst. De Lijstbreedte bepaald hoe groot de lijst wordt.
Het model zal dus groter zijn dan de afmetingen van Lengte Schilderij en Breedte Schilderij omdat de grootte van de rand daar nog aan alle kanten bij wordt opgeteld.
Lijm zou niet persé nodig hoeven zijn voor dit model.
Als je dit model gebruikt als inlegstuk in een andere doos, dan is het extra stuk papier niet nodig.
Kijk op YouTube-movie voor een beeld te krijgen hoe je dit model construeert.