Kegel (afgeknot)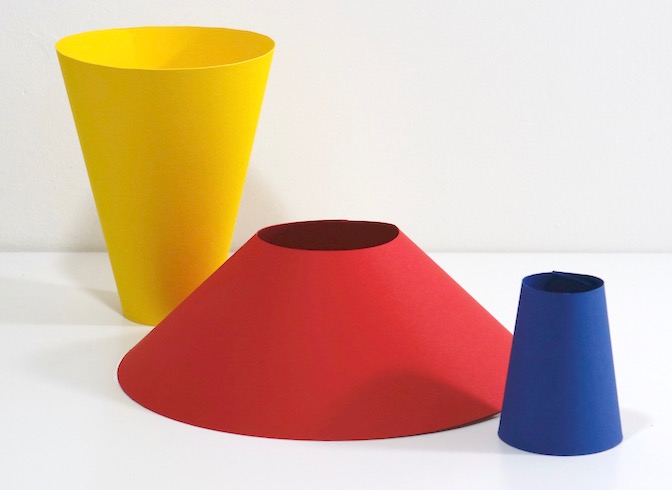 Denk bijvoorbeeld aan een feesthoed, aan de vorm van een koffiebeker of een emmer. Het is verrassend lastig om de uitslag van dit figuur te berekenen, vandaar dat ik er maar een uitslag voor gemaakt heb. Als je een echte kegel wilt (dus een die niet is afgeknot), moet je 0 invullen bij een van de diameters. Er is een extra lijn in het midden getekend die gebruikt kan worden als hulplijn voor tekst.
Tip: vouw of ril de lijn op de plakrand niet, zo behoud de kegel zijn ronde vorm.
Mocht jouw printer nu te klein zijn om de uitslag uit de kunnen printen, dan kan je de uitslag vrij eenvoudig namaken met een passer. De beide cirkels in de uitslag zijn concentrisch: je kan ze met de passer tekenen met de punt in hetzelfde gat. De afstand tussen de benen van de passer wordt genoemd in het gedoownloade template ter hoogte van de lijmrand: R1 en R2.
Voorbeelden en afbeeldingen