Inlegstuk voor rechthoekig produkt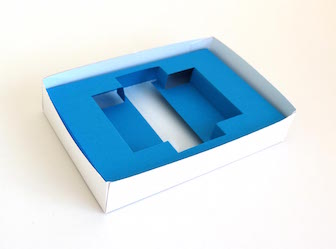 Toon je kado of uitvinding op een presenteerblaadje met behulp van dit inlegstuk. Er is zelfs wat extra ruimte voor een duimgat. Dit inlegstuk is geschikt voor platte, vlakke, rechthoekige producten en kan uit één stuk materiaal gemaakt worden. Aan weerszijden van het product bevindt zich een duimgat.
Dit model is geen losstaande doos. Daarvoor heb je nog een ander template nodig zoals de "Ondiepe Doos" of het "Lucifersdoosje".